Stay Up To Date with Manito Transit
Bloomington, IL - Manito Transit acquires Lobdell Transportation : Manito Transit expands fleet, adding tractor units, fuel tankers, and pressure vessels
Manito Transit acquired the assets of Lobdell Transportation, Inc., a family-owned trucking company based in Lena, Illinois. The acquisition comes with 21 tractor units, 22 fuel tankers, and eight pressure vessels capable of hauling propane and anhydrous ammonia. Manito Transit now operates 120 trucks, serving customers in 13 states.
"We are excited to build new relationships with external customers in this area, while expanding our footprint to better serve our current customer base," said Brandon Curtis, Manito Transit General Manager. "We remain committed to providing excellent service for our patrons and this acquisition will enhance those efforts."
The transaction also includes a two-bay maintenance shop, previously owned by Lobdell Transportation.
Listen to Brandon's interview on AgWired.com regarding the acquisition >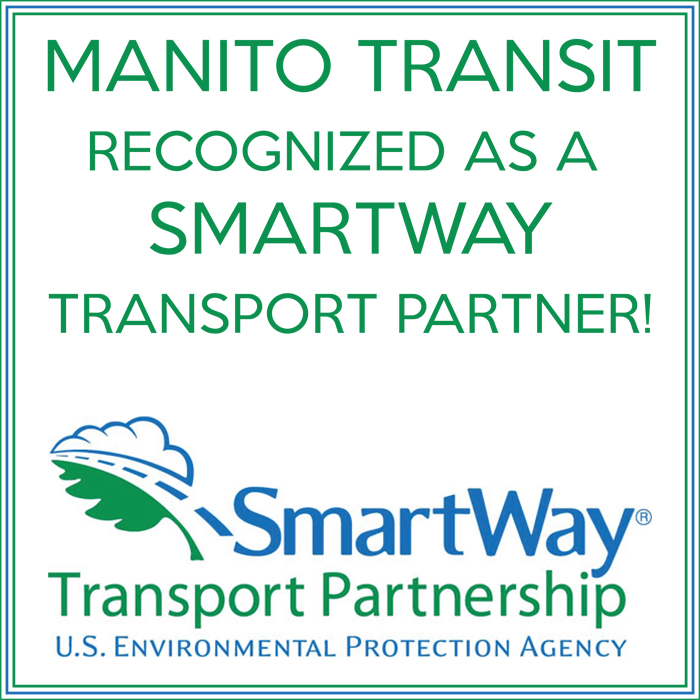 Bloomington, IL - Manito Transit today announced that it joined the SmartWay Transport Partnership, an innovative collaboration between U.S. Environmental Protection Agency (EPA) and industry that provides a framework to assess the environmental and energy efficiency of goods movement supply chains.
Manito Transit will contribute to the Partnership's savings of 170.3 million barrels of oil, $24.9 billion in fuel costs, 72.8MMT of carbon dioxide, 1,458,000 tons of nitrogen oxides, and 59,000 tons of particulate matter. This is the equivalent to eliminating annual energy use in over 6 million homes. Carbon dioxide is the most common greenhouse gas, and nitrogen oxide is an air pollutant that contributes to smog. By joining SmartWay Transport Partnership, Manito Transit demonstrates its strong environmental leadership and corporate responsibility.
Manito Transit, with its mission to be recognized in the trucking industry as a carrier that differentiates itself as "Your Perfect Service Carrier", is looking forward to doing their part as a responsible corporate citizen in achieving the SmartWay Transport Partnership goals.
Developed jointly in early 2003 by EPA and Charter Partners represented by stakeholders, environmental groups, American Trucking Associations and Business for Social Responsibility, this innovative program was launched in 2004. Partners rely upon SmartWay tools and approaches to track and reduce emissions and fuel use from goods movement. The Partnership currently has over 3,000 Partners including shippers, logistics companies, truck, rail, barge, and multimodal carriers.
For more information about the SmartWay Transport Partnetrship visit www.epa.gov/smartway

In response to increasing sales, Manito Transit is growing their Perfect Service model by merging with Wolff Transports. The joining of the two companies will effectively expand their service footprint to markets in La Crosse and Madison Wisconsin, Cedar Rapids, Iowa and Litchfield, Illinois. The completed expansion will enable Manito to better serve current customers while additionally increasing business opportunities in a larger geographical market.
CALL (800) 252-6874
For service in Colorado, Illinois, Indiana, Iowa, Kansas, Minnesota, Missouri, Nebraska, North Dakota, Ohio, South Dakota, Wisconsin and Wyoming
WANTED
Company Drivers and Owner-Operators in Lena, IL!